Body and Suspension


New pics of the body
As you can see from the pictures below, it's not much of a car, YET!!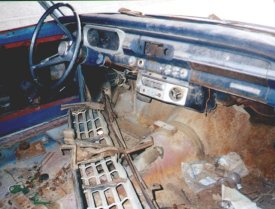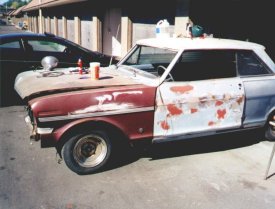 This is what she looked like when I brought her home!!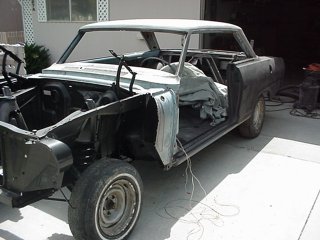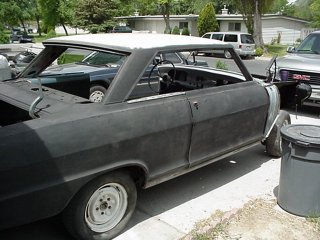 Sure does not seem like 2 years worth of work, but it was purchased as a package deal in July 98. I answered an add in the local paper for a 63 400 sport coupe and parts car. The parts car turned out to be a genuine SS. The only problem was that it had no title. After a few months of dealing with the local DMV, that problem was solved, and the work began! Unfortunately, the 400 coupe has found it's way to the scrap yard. After being t-boned by an old lady, there was not much to be salvaged. Rest in Piece!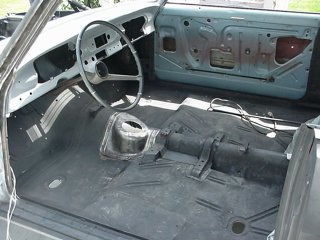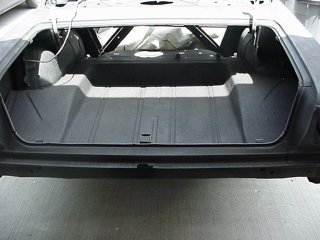 As you can see, the original floor and trunk pans are in excellent shape considering it sat in a field for over five years with NO glass! The car was missing everything SS specific except dash chrome and instrument cluster. Even the transmission hump was missing! Special thanks to Charlie Pinchak for saving A tranny hump and tons of other excellent parts for many years, Just out of chance he had some beautiful original pieces, Thanks!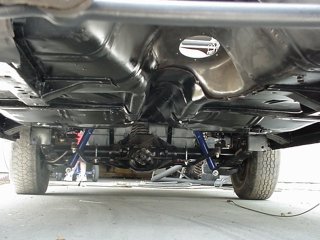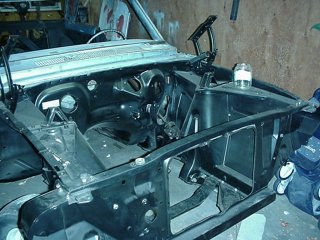 So far, the lower portion of the car has been stripped to metal via sandblasting and wire wheel (alot of time) and refinished with Eastwood Corraless and chassis black paint. Oh, the diff is a 5-lug from a 67 4-door. Somewhere back there is a Hellwig rear swaybar. I also installed multileaf spring with all poly bushings. The engine bay was also stripped and finished with Eastwood products (looks crappy from dust).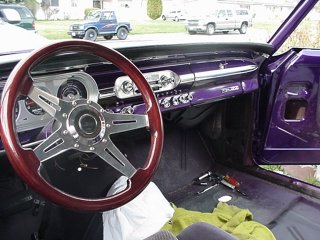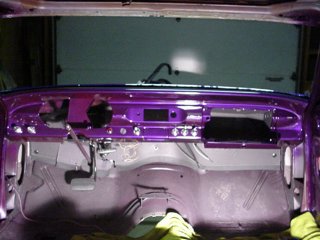 Here are few more recent shots! The second pic was taken just after the cars return from the paint shop. The first is the completed dash, with the Grant Signature Series wheel. The color is Sherwin Williams Cabra Violet, with metallic added.
A few highlights!
- True SS with floor mounted shifter and console

- 2 speed wiper with washers

- Power steering and power brakes

- Tinted glass (all)

- Bumper guards and grill guard

- Factory air conditioning (removed by me)

- Pushbutton am radio

- Padded dash cover

- Two tone paint (Blue body, white top)