Door Ajar Warning Lamp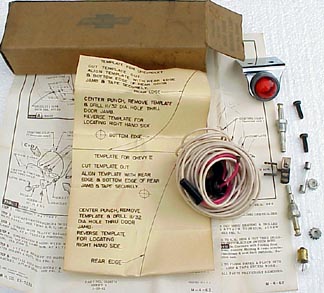 Door ajar warning lamp was available for 4 door sedan, and wagon. Light would blink when one of the back doors were open. Also available as part of the Taxi cab package. You don't see this accessory very often!
Dave Staley added "It appears that the rear door open
warning light was available in the Nova's in 62-65 (I've seen some sources
say 62-3 only and 63-4 only), don't know about 66-67. In 62 it was an
optional portion of the Taxi option, in 63 it was a dealer installed option
and part of the taxi option and in 64-65 it was part of the taxi option.
Not sure if you could get it if you didn't order a taxi, you probably could,
but that's the info in my dealer books."